December 18, 2017. This month's Marble Center seminar will feature a hot topic on the emerging trend of preprint in life sciences. The discussion will be moderated by a Dr. Rosalind Mott, Scientific Editor at Cell Press. More background on the topic can be found in this recent publication in the journal Science. 
Dr. Rosalind Mott received her Ph.D. from The University of Virginia in biomedical engineering, investigating integrated cellular responses to applied force. She then moved to the University of Pennsylvania to determine the impact of traumatic brain injury (TBI) on mRNA translational mechanisms. This work led her to research neuronal network remodeling and develop therapeutic strategies to target aberrant protein translation and mitochondrial dysfunction to facilitate network recovery after mild TBI. She joined the Cell Metabolism editorial team in December 2015 and has a strong interest in transforming traditional modes of scientific communication.
October 30, 2017. This month's Marble Center seminar will feature a research update by Dr. Ana Jaklenec from the Langer lab on "Drug Delivery Technology for Pulsatile Release of Biologics," as well as an industry panel on "Emerging Technologies:"
Dr. Andrew Warren

 is a 

Founding Scientist & Product Development Lead at Glympse Bio, a seed-stage startup developing a diagnostic drug platform originally invented in Professor Sangeeta Bhatia's lab at MIT.

Dr. Pengpeng Cao

is a 

Senior Scientist at Torque Therapeutics where she develops new classes of cell-based immunotherapeutics to boost the potential of immunotherapy for cancer treatment.

Dr. Vyas Ramanan is an Associate at Third Rock Ventures where

he 

focuses on new company formation and due diligence.

Dr. Fiona Sharp

 is an Investigator in the exploratory immune-oncology group at Novartis. Her research 

focuses on enhancing our understanding of immune checkpoint pathways for the development of anti-tumor immune responses.

Dr. Jenna Sullivan is a Senior Imaging Scientist at inviCRO, LLC. where 

designs and directs preclinical and translational imaging studies to support drug discovery and development.

Dr. Carl Schoellhammer is the 

co-founder and CEO of Suono Bio, a preclinical-stage company focused on the ultra-rapid delivery of novel therapeutics to the gastrointestinal tract.

Dr. Michael Look is a senior scientist at Pfizer's Inflammation and Immunology Research Unit, where he develops novel targets related to the treatment of autoimmune diseases and inflammatory disorders

.
October 9, 2017. The Marble Center announced today the first class of Convergence Scholars. The Convergence Scholars Program aims at cultivating in postdoctoral trainees an integrative vision of science and technology. The program will provide postdoctoral trainees with opportunities to further their experiences and skills beyond the research laboratory space. Click here to access the press release.
May 30, 2017. Dr. Polina Anikeeva, the MIT Class of 1942 Associate Professor of Materials Science and Engineering, will present her research on "Probing Neural Function with Electronic, Optical, and Magnetic Materials" at the next Marble Center Seminar on Tuesday May 30, 2017 (5pm). More information about Dr. Anikeeva's research group can be found here.
April 20, 2017. As part of the Koch Institute's outreach effort at the 2017 Cambridge Science Festival, Marble Center researchers designed a pop-up mini golf course on cancer nanomedicine featuring concepts from the fields of targeted drug delivery, nanoscience, tumor biology. Kids and adults took a swing at various biomedical challenges in this course (as well as several others organized by Koch Institutes researchers) to learn more about the ins and outs of cancer.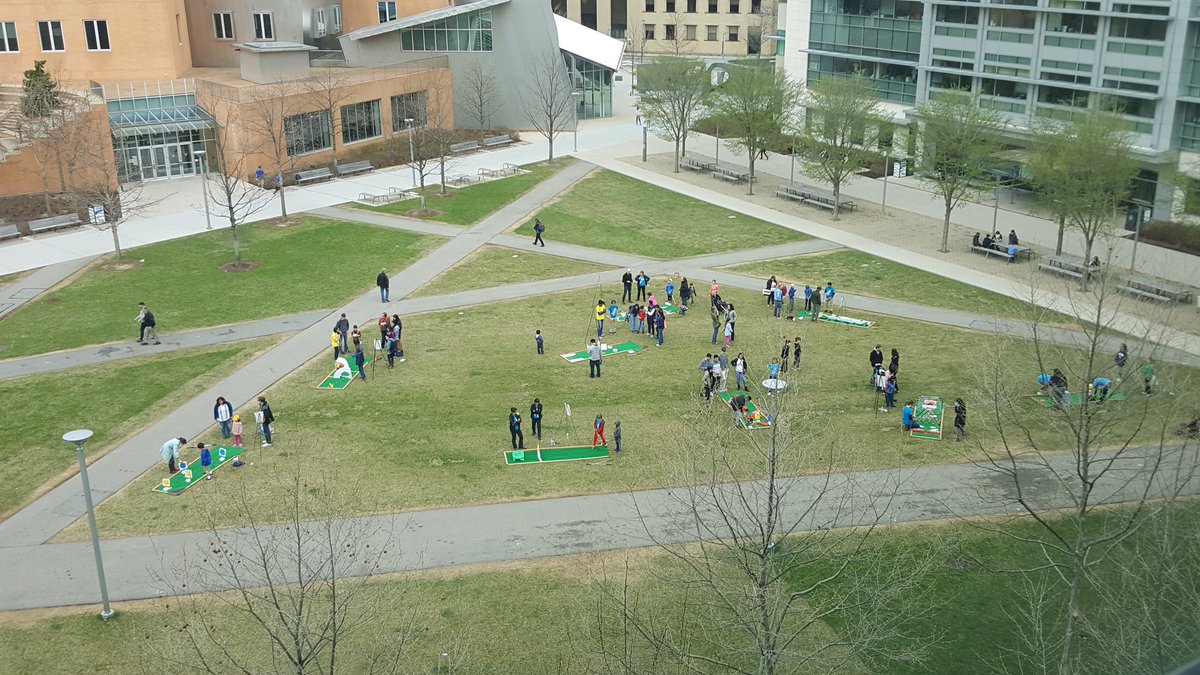 November 15, 2016. Dr. Ji-Ho (Joe) Park will be presenting his research on "Harnessing Exocytosis of Nanoparticles to Improve Cancer Nanomedicine" on Tuesday November 15, 2016. Dr. Park is an Associate Professor of Bio and Brain Engineering at Korea Advanced Institute of Science and Technology (KAIST, South Korea). Lunch will be served at 12:30pm and the talk will start at 1pm. Click here for more information.
October 9, 2016. In honor of the first annual celebration of National Nanotechnology Day, the Koch Institute for Integrative Cancer Research at MIT presents an interactive peek into how researchers across the MIT campus are using nanomaterials to explore and improve the world. Open the collage below for a big picture view of the tiny technologies exhibited in the Koch Institute Public Galleries. Each square links to one image in our online galleries; click to learn more!